THE START
The first lettering workshop I hosted was for free. I had just arrived to Berlin, fresh out of my type design studies in the Netherlands. No one really knew me in the city and I was positive that I could teach lettering, however I hadn't done it before and I wasn't sure if I was any good at it. My thought was basic and straight forward: if no one had to pay for it people would just sign up. That would give me more chances to have a room full and I would ultimately have the opportunity to try if I could do it.
I organized that workshop with a heart full of expectation. I planed every detail: how would I welcome the attendants, where would they seat, what would be the best for beverages and snacks and which goodies I would give away. I even organized an after workshop party, where the attendants could relax and fill in what I called The Wall of Letters, a wall-sized grid to fill with letters. After its completition it read "all the letters are equal".
The workshop exceded all my outlooks. The results were good, attendants were thankful and I felt that I had succeeded on trying to turn words something that I did intuitively. It was my first time at teaching letter design, but I felt that all the years of experience at teaching typography back in the years at Universidad de Buenos Aires translated into confidence and precision to convey concepts. That, jointly with my will to make it happen turned out to have a positive impact in my teaching.

Workshop organised in collaboration with Jakob Wolf
THE TEACHING METHOD
Over 5 years went through since that time. My first workshop lasted three days (three days!) and my workshops nowadays last 6 hours top. What has changed? My precision at sorting out the truly essential concepts that I want to give the people as take away. With the time I have also learned to identify profiles of students and how to help them improve their design process, so my efficacy at teaching translates into their success at working and getting the best out of the sessions within an economical process.
At these workshops I teach an effective technique to draw letters by hand very popular among letter designers: the improvement of a drawing by layers. Moreover, I convey a series of type design principles. Altogether these are the tools that they attendants could use for the continuation of their own practice. I also share insights on my experience at working commercially with lettering and I give tips on how to improve the workflow on a commission.

Demo of the sketching technique I use in my workshops
But perhaps the most relevant thing that I do with my teaching is to turn naive eyes into sharp, critical eyes at working with typography. And this is perhaps the most rewarding part of it, the feeling that attendants walk away with a degree of illumination. These students with my contribution will hopefully never look at letter shapes the same way again.
THE SERIES
I have taught over 35 workshops. Sometimes privately organised, at times in-house at agencies and publishing houses or universities.
I took my workshops to many cities. From the beginning I pursued the vision of turning them into an international series. And I did. I have hosted workshops in Barcelona, London, Buenos Aires, Turquey, Lugano, Dubai, Dessau and many other places in and outside Europe.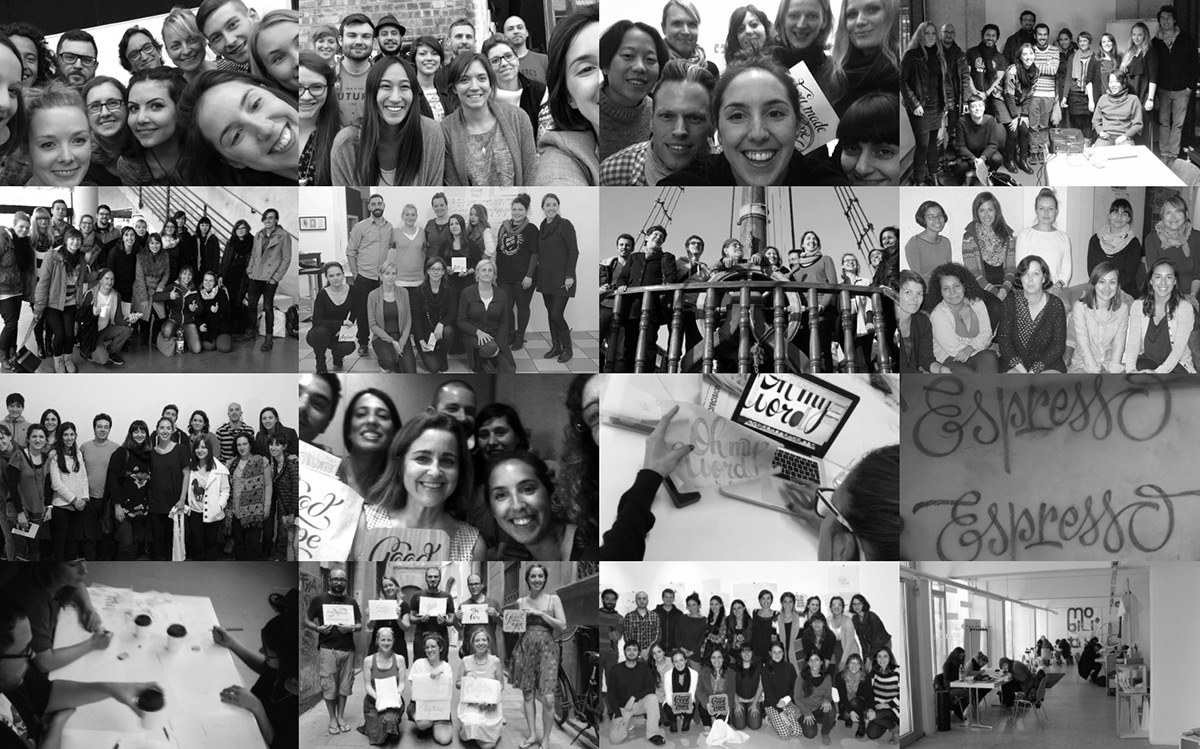 Picture with workshop attendants

The series of workshops became a living-the-dream experience that allowed me to travel to many countries as well as welcome more than 400 students eager to learn more about letter design. 
However, this scheme was not sustainable. The amount of work and money invested into organising a workshop in another city began to undermine the concept of "international".
ONLINE SKILL SHARING
I quickly found out that my wish to reach new audiences was not possible to realise through face-to-face workshops. This is when online platforms like Domestika (in spanish) and Skillshare (in english) turned out to be great outlets for my endeavour.
Teaching my online skillshare class
They are a different experience than a face-to-face workshop: its affordable nature and the fact that you can structure your own content turns each class into a unique way of sharing the manner in which you do things. It also provides tools to create a community that is now over 12.000 students.
These years of teaching have translated into a community that comes back to me from time to time for showing me the last lettering they did for a poster or the hand lettered invitations for their own wedding. It is jut get to see how I contributed to their knowledge in some way.
My teaching at letter design started as a side project and is nowadays a big part of my work. And this experience all in all has helped me to build self confidence in what I do and allowed me to reflect on how I do it.

In my next post I'll be speaking about my commercial work and how did it all started. Click here to read it.